Copperworks school 'must be saved'
A GROUP of campaigners are attempting to save the old Copperworks School in Burry Port, which they claim is in line to be demolished by Carmarthenshire County Council for a housing development.
The school was built for the children of the workers at the old copper works and is a link to the areas industrial past. The building sits in an impressive walled enclosure alongside another large community building.
It is one of a number of former community buildings in the town, which is being considered for sale by the County and the Town councils.
On Tuesday (Mar 1) we visited the school and met with a lady called Ros, who is one of the campaigners.
She told The Herald: "The council want to have planning permission to develop the land and so the school would be demolished. We would like to save the school for the community.
"The council have given us a six month period to come up with some ideas. We would like to see the community taking part in the survey asking them what sorts of things they would like to see in the area."
Ros continued: "We would like to see the school being used for a cinema, a market, a well-being centre, a dance studio and a community meeting place. We would look at getting grants but it would also have to be sustained through private enterprise like a coffee shop. We could also keep it as a community space and include affordable housing."
NOT AN EASY TASK
Explaining the difficulties, Ros told us: "We would like to take it on a peppercorn rent, but the council don't see that as an option.
"It is okay for the council to tell us they need affordable housing, but we also need community spaces. We only found out about the sale when we saw a man up a ladder doing a survey. We were told there was a reference to it in the Town Council minutes!
"This building is one of the last remaining links to the area's industrial heritage. It was built by the Elkingtons and the Masons for the children of the workers at the copper works. At a point when people really need community space this is an ideal place to start.
"In the minutes of the council meeting they actually say they will have a plaque here when it has been demolished. There is a lot of new building going on in Burry Port. There is a new school and more housing but there are no community meeting places included.
"I would like to think that we could get help to keep this building for the community. The council elections are coming up and it will be interesting to see which side of the fence they sit on regarding this building."
A look at the buildings of the school shows that it is not long since works have been done on their interior. If the school was demolished, the money spent on those works would appear to have been a waste of public funds.
The Herald tried to contact the County Councillors for Burry Port.
We were told that Councillor Pat Jones was ill and would not be able to speak to us.
Councillor John James was unavailable. Instead, we spoke with Town Councillor Mike Theodolu. We asked Cllr Theodolu what the Town Council's stand point was on the school and what the future plans were for the school.
He told us: "The council took a decision a few months ago to allow a period of time for the community group that was interested in using it as an arts centre to see what could come up with and whether they could get the funding, the support and business plan to do anything it.
"We gave them a deadline by which they had to come back to us for the end of April or May. If they have not come back to us with something that is a goer then we will find an alternative."
VALUE FOR MONEY
The Herald asked Councillor Theodolu if the Town Council had conducted any consultation with the community on the future of the building and if they would back a community enterprise. He explained: "The site belongs to the Town Council. We have a duty to get value for money for any asset.
"In this time of financial restraint, the Town Council must bear in mind all the other community facilities we have that need money spending on them. We are also being asked to take on parks and open spaces by the County Council or they will close. We need to find the money to be able to keep those alive for the community."
We asked whether the buildings and land had been valued and he replied: "We have not had a valuation. We are waiting to see what this group comes up with. I am really proud of this council for listening to a local group that hasn't got a track record that's come up with a proposal, because it is taking a risk with a group who haven't got a bank account; haven't been constituted; and we are still giving them a chance, whereas other councils wouldn't."
Asked what the Town Council would do with the building Councillor Theodolu told The Herald: "We were happy to have given the group the time to put together a business plan together. I have met them and even given them advice about where they can go for help.
"I am quite proud of the way this council has said, there is a local group who have expressed an interest, let's give them a chance. If nothing comes of that then we have a duty to the rest of the community to use that wisely.
"We will be considering their proposals, if they come up with them by the deadline. " If they are robust and convincing, they don't exactly have to have any guarantees and if they have given it enough thought and it looks like they might get somewhere then we will give them the chance to do that.
"If they don't, we owe it to the rest of the community, with the continuing growing demand on money and resources to save other community facilities, to do something with that building so we can safeguard other facilities."
We pushed Councillor Theodolu on whether or not the community had been consulted on the sale of the community land and buildings. He said: "We have recently finished a series of public meetings with the public to listen to what people had to say about the parks and other facilities. These were advertised widely.
"A report in local media says that the people unanimously want us to find the money to safeguard the parks and open spaces. There is a limit to how many times you go asking for views and opinions.
"I think we have enough direction from the people in the community about what they want us to do. We will honour the commitment we have made to this group and if they don't come up with anything that is viable we will move on."
FOND MEMORIES
The campaign group Regenerate Our Copperworks School (ROCS) says that it is encouraged by the responses to their survey of public opinion on the future of the Old Copperworks School in Morlan Terrace: "The survey and petition, which took place throughout, Burry Port invited not only local residents, but also those people outside of Burry Port who have a love of the town, to express their views on this iconic building that Burry Port Town Council wishes to demolish.
"Many people expressed fond memories of the school and shared their school days with us. We are honoured that Lord Leslie Griffiths of Burry Port has agreed to be our patron and we are equally pleased that MP Nia Griffith is a keen supporter of our aims and objectives.
The Group continued: "We are very keen to garner the ideas of the townsfolk as to the future uses of the old school, which we see as a Centre for the Community where we can present art based activities, these could include dance, theatre, music, story-telling, art classes, exhibitions, crafts, historic talks and will include a family room, and a well-being venue, a café and a school museum.
"Our aim is for the old school to be a part of the town's tourism infrastructure by providing opportunities for craftspeople to hold activities and skilledbased courses and to use local hotels, restaurants and shops.
"We are actively seeking ideas and suggestions from local residents, artists and craftspeople as to possible uses for this amazing space. Also for consideration is an opportunity for an arts-based professional to establish a business in the school."
The group have now embarked on a survey-questionnaire to gain an appreciation of the needs and requirements of the Townspeople of Burry Port & Pembrey. The objective is to provide a voice for everyone to express their personal needs and determine a new future for the Old Copperworks School.
Members and supporters of the ROCS Group will be visiting homes and the shopping areas to ask members of the public for their opinion. The quick, short questionnaire enquires of interests in dance, the arts, well-being and youth and family based activities, which will be presented to the Town Council.
A 48-7 victory over Italy leaves Wales a win from the Grand Slam
IT was always going to be a tough game for the Italian side, but now it is official, Wales are one win away from the Grand Slam!
Wales scored seven tries through Josh Adams, Taulupe Faletau, Ken Owens (2), George North, Callum Sheedy and Louis Rees-Zammit as they secured a comfortable Six Nations win in Rome.
The unbeaten tournament leaders reeled off a third successive bonus-point victory to increase pressure on their rivals for silverware. Italy meanwhile are staring down the barrel at another Wooden Spoon – they haven't won a Six Nations match since 2015.https://www.youtube.com/embed/QI4FARxZcKk?feature=oembed
STILL A BIT OF WORK TO DO
The Welsh captain, Alun Wyn Jones, who is just one win away from winning his fourth Six Nations Grand Slam told S4C: "We were pretty clinical, particularly in the first half.
"We're a tad frustrated with the second half but it's a case of job done and plenty to work on.
"The excitement I feel every time I pull on this red jersey is insurmountable, so I'm looking forward to getting back to it on Monday and preparing for next weekend."
Jones added: "It's job done, but there's still a bit to work on."
Another heavy defeat will again raise the inevitable questions about Italy's position in the Six Nations and whether there should be relegation.
The facts speak for themselves.
Today marked a 31st successive defeat for the Azzurri in the competition, with their last victory coming against Scotland in 2015.
Italy have not managed a home Six Nations win for eight years, with 20 successive losses.
Italy have conceded 187 points and 26 tries in four games this year.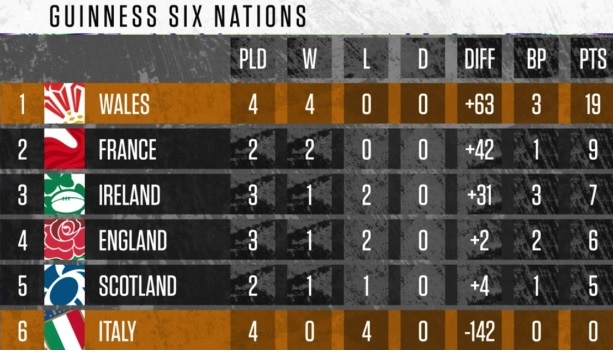 Line-ups
Italy: Trulla, Bellini, Brex, Canna, Ioane, Garbisi, Varney; Fischetti, Bigi (capt), Zilocchi, Cannone, Sisi, Negri, Meyer, Lamaro.
Replacements: Fabiani for Ioane (7-18), Lovotti for Fischetti (65) Riccioni for Zilocchi (33), Lazzaroni for Cannone (52), Mbanda for Meyer (26-36), Violi for Varney (63), Mori for Garbisi (54) Padovani for Trulla (44).
Wales: L Williams; Rees-Zammit, North, J Davies, Adams; Biggar, G Davies; W Jones, Owens, Tomas Francis, Hill, AW Jones (capt), Navidi, Tipuric, Faletau.
Replacements: Dee for Owens (54), Carre for W Jones (57), Brown for Francis (45), Ball for AW Jones (54), Wainwright for Faletau (51), L Williams for G Davies (52), Sheedy for Biggar (52), Halaholo for North (46)
Match officials
Referee: Wayne Barnes (England)
Touch judges: Pascal Gauzere (France) & Christophe Ridley (England)
TMO: Tom Foley (England)https://platform.twitter.com/embed/Tweet.html?dnt=true&embedId=twitter-widget-0&frame=false&hideCard=false&hideThread=false&id=1370764974163947527&lang=en-gb&origin=https%3A%2F%2Fwww.herald.wales%2Fsport%2Fa-48-7-victory-over-italy-leaves-wales-a-win-from-the-grand-slam%2F&theme=light&widgetsVersion=e1ffbdb%3A1614796141937&width=500px
MATCH ANALYSIS
Surely it was discipline that was the main problem for Italy.
Mistakes and an incredible ability to give away stupid penalties, as a series of needless errors allowed the visitors to build an insurmountable lead early on.
It all started with Paolo Garbisi sending the ball dead from the kick-off before Luca Bigi infringed at the breakdown. The captain then cynically stopped a Gareth Davies quick tap and was duly yellow carded. Against 14 men, Wales built up an advantage they would not relinquish as the visitors won the game before it had really started. It was not a good example from the skipper and is symptomatic of where the Italians are currently at.
Arguably since before the 2017 British and Irish Lions tour, the back has struggled for form, leading many to question whether that was it for the Welsh centurion. Although he is only 28, it must be remembered that North has been around at the top level for a long time and there is only so much the body can take in modern day rugby. However, the move into the midfield seems to have given him a new lease of life.
To the surprise of many, Callum Sheedy did not start against Italy after his superb performance versus England. Instead, it was the much criticised Dan Biggar who continued at fly-half and produced a significantly improved display before giving way to the Bristol playmaker in the second period. Sheedy was also excellent when he came on and it leaves Wayne Pivac with a decision to make going forward. No doubt, Biggar will start next week against France – albeit the head coach is not afraid of making a big call – but the 25-year-old is certainly not far off the first XV.
Much has been said and written about the Azzurri's continued presence in the Six Nations and based on the evidence in this fixture, they really shouldn't be playing in a competition of this stature. Franco Smith's charges were never at the races with Wales racing into a 22-0 lead midway through the half without really breaking a sweat. Italy hardly threatened on attack – especially during the first half – and it looked like it was a case of men against boys for large periods of this Test. The result means they have now lost 31 matches on the trot, which is the longest losing streak in the history of the Championship, and they last tasted victory in a Round Three clash against Scotland in 2015. The time is now ripe for tournament organisers to reconsider their participation.
Although Italy were never in this encounter, Wales deserve plenty of credit as they impressed for the entire game and made full use of the opportunities which were presented to them.
Pivac will be delighted with the clinical fashion with which his players went about their business and they had their bonus point in the bag by the half-hour mark after Josh Adams, Taulupe Faletau and Ken Owens (2) crossed for tries. Despite leading 27-0 at the interval, Wales did not take their foot of the pedal with North also crossing the whitewash soon after the restart and although Monty Ioane scored a try for the hosts, that was a mere blip as Wales continued to dominate and sealed their win with five-pointers from Sheedy and Louis Rees-Zammit.
Six Nations: North set for 100th cap against England
GEORGE North is set to become the youngest player in the world to reach the 100-cap milestone for his country on Saturday, February 27, when Wales take on England at Principality Stadium (KO 16.45 BBC & S4C).
North, 28, made his international bow in November 2010 and has amassed 42 tries in his 99 appearances.
North will line-up in the centre alongside Jonathan Davies on Saturday, outside of half-back pairing of Kieran Hardy and Dan Biggar. Josh Adams, Louis Rees-Zammit and Liam Williams comprise the back-three.
Wales name an unchanged front-five with Wyn Jones, Ken Owens and Tomas Francis packing down in the front-row and Adam Beard partnering captain Alun Wyn Jones in the second-row.
Josh Navidi returns to the side to line-up alongside Justin Tipuric and Taulupe Faletau.
"We've had a great two weeks leading into this game and we are looking forward to Saturday," said Wales head coach Wayne Pivac.
"We continue to build and we know there is plenty left in us in terms of improvements from the opening two rounds. We are 2/2 but we want to continue to improve performance wise.
"Saturday is a great milestone for George, it is a huge achievement at his age and we are looking forward to seeing him in action."
Elliot Dee, Rhodri Jones and Leon Brown provide the front-row cover for Wales with Cory Hill and James Botham completing the forward contingent. Gareth Davies, Callum Sheedy and Uilisi Halaholo provide the back-line cover.
WALES TEAM TO PLAY ENGLAND (SATURDAY FEBRUARY 24, KO 16.45)
1. Wyn Jones (32 Caps)
2. Ken Owens (79 Caps)
3. Tomas Francis (54 Caps)
4. Adam Beard (23 Caps)
5. Alun Wyn Jones (CAPT) (145 Caps)
6. Josh Navidi (25 Caps)
7. Justin Tipuric (82 Caps)
8. Taulupe Faletau (83 Caps)
9. Kieran Hardy (3 Caps)
10. Dan Biggar (89 Caps)
11. Josh Adams (29 Caps)
12. Jonathan Davies (85 Caps)
13. George North (99 Caps)
14. Louis Rees-Zammit (6 Caps)
15. Liam Williams (68 Caps)
Replacements:
16. Elliot Dee (34 Caps)
17. Rhodri Jones (19 Caps)
18. Leon Brown (14 Caps)
19. Cory Hill (29 Caps)
20. James Botham (4 Caps)
21. Gareth Davies (59 Caps)
22. Callum Sheedy (6 Caps)
23. Uilisi Halaholo (1 Cap)
Wales looking for third win in a row against England
WALES have won their first two games in the Six Nations Championship and on Saturday, February 27, they put that record on the line against great rivals England.
Having already beaten Ireland and Scotland, the Triple Crown will be on the line for Wales, a feat they last achieved in 2019 when they won the Grand Slam.
That will be incentive enough for Wayne Pivac's men but to do it against England will make it that little bit sweeter.
With France's game against Scotland on Sunday in doubt, it will also give the home side a great chance to extend their lead at the top of the table.
Wales do not have any fresh injury concerns going into the England game and it will likely provide a selection headache for Pivac.
George North could be set to make his 100th appearance for Wales if he plays against England, and is currently second in the list of all-time try scorers for his home country.
England lost their opening game of the tournament against Scotland but got back to winning ways with a resounding 41-18 win over Italy.
The 2020 Six Nations and Autumn Cup Champions will be eager to rediscover their winning form which brought them that success but they will not find it easy against Wales.
What happened the last time England visited the Principality Stadium?
Wales last welcomed England to the Principality on February 23, 2019, and it was a game which saw Wales earn a 21-13 victory.
Cory Hill and Josh Adams scored Wales' tries in that match while Dan Biggar and Gareth Anscombe added the rest of the points from the boot.
Tom Curry scored England's only try in that match while Farrell had a 100% success rate with his kicks.
What happened when the sides met in 2020?
It was an absolute classic last year with England triumphing by 33 points to 30 at Twickenham.
Anthony Watson, Elliot Daly and Manu Tuilagi got the tries for England on that day while Owen Farrell had again had a 100% record with the boot.
Justin Tipuric bagged two tries for Wales while Dan Biggar scored their other as the men in red came up short on this occasion.
Of course, the last two meetings between the two sides were played in front of capacity crowds but that will not be a factor this time around, owing to the current coronavirus pandemic.
Could that be a factor in the game or will both sides treat us to an excellent display of rugby?
After the England game, Wales travel to Italy on Saturday, March 13, while England will host France on the same day.
A win for either side this weekend will be crucial; a win for Wales and it sets them up for the Grand Slam while a win for England will reignite their hopes of retaining the Six Nations Championship.
Saturday's game kicks off at 16:45 and can be seen on S4C as well as the BBC.
ENGLAND
Elliot Daly, Anthony Watson, Henry Slade, Owen Farrell, Jonny May, George Ford, Ben Youngs, Mako Vunipola, Jamie George, Kyle Sinckler, Maro Itoje, Jonny Hill, Mark Wilson, Tom Curry, Billy Vunipola.
Replacements: Luke Cowan-Dickie, Ellis Genge, Will Stuart, Charlie Ewels, George Martin, Ben Earl, Dan Robson, Max Malins.
WALES
Liam Williams; Louis Rees-Zammit, George North, Jonathan Davies, Josh Adams; Dan Biggar, Kieran Hardy; Wyn Jones, Ken Owens, Tomas Francis, Adam Beard, Alun Wyn Jones, Josh Navidi, Justin Tipuric, Taulupe Faletau.
Replacements: Elliot Dee, Rhodri Jones, Leon Brown, Cory Hill, James Botham, Gareth Davies, Callum Sheedy, Uilisi Halaholo.