What next for West Wales?
AFTER WALES joined England in voting to leave the European Union on Thursday (Jun 23) , subsequent talk has focused on what the future has to offer for the country.
While Ceredigion voted to remain in the EU, both Carmarthenshire and Pembrokeshire voted Leave by a higher proportion than the national average.
In Carmarthenshire, it has been suggested that a Leave majority in Llanelli, as well as a 55-45% majority vote for Brexit in Carmarthen West and South Pembrokeshire , were the main reasons why the county as a whole voted out. It is thought that Carmarthen East and Dinefwr voted Remain, although post -polling sampling results had not been confirmed at the time of going to press.
Of the five MPs and nine AMs representing Carmarthenshire, Ceredigion, and Pembrokeshire, only one – UKIP's Neil Hamilton – was in favour of leaving the EU.
The result swiftly led to David Cameron's resignation, and calls for Jeremy Corbyn to resign – following a referendum he didn't particularly want – swiftly grew within the party, leading to mass shadow cabinet resignations after Hilary Benn was sacked for reportedly trying to engineer a coup.
Among those to resign was Llanelli MP and former Shadow Secretary of State for Wales , Nia Griffith, who said in her resignation letter that, while she recognised Mr Corbyn's huge mandate from voters and the 'fresh thinking' he had brought to the Labour Party, she lacked confidence that he was capable of uniting the party in readiness for a possible snap election.
Speaking after the referendum results were announced, Ms Griffith said : "Labour must do everything we can as the official opposition in Westminster to promote stability in the markets, and to push for Britain to have the best possible terms for an exit from the EU.
"Our immediate priority for Wales is to ensure that the way Wales receives funding from the UK Government is reformed and that funding is increased to make up for the money that we currently receive from the EU .
"We must seek workable agreements with the EU that give our manufacturing companies the confidence to remain in the UK, and that is of particular importance to us here in Llanelli, so that we can safeguard jobs."
Plaid Cymru leader , Leanne Wood , has talked about the prospect of a referendum for Welsh independence following the result. However, this is far less likely to be realised than it would be in Scotland.
Not only has support for Welsh independence always been significantly lower than it is on the far side of Hadrian's Wall – less than 10% – but more crucially, Wales also voted in favour of leaving the EU. Holding, never mind winning, a referendum in these circumstances would be close to impossible.
Local Plaid Cymru MP Jonathan Edwards spoke of a 'radical reconfiguration of powers ' .
"We cannot allow the UK to continue to be dominated by Westminster," he added, criticising the Leave campaign for having 'absolutely no plan for the future of the UK or our economy ' .
"Plaid Cymru's role will always be stand up for the best interests of Wales and her people.
"We will do all we can to protect our communities and defend the Welsh national interest."
Simon Hart MP, who had also supported remaining in the EU, said that an important issue would be striking a balance between the large numbers of people who voted for each side. "75% of people in the younger age bracket voted Remain and it's important that what we do represents their fears and aspirations as much as it does the Leave group," he added. He also emphasised that it would be in the interests of local businesses for the uncertainties regarding the country's future to be dealt with as soon as possible.
Adam Price made no bones about the scale of the task ahead for Wales and the UK . The Plaid Cymru AM said: "Without doubt , Wales now faces perhaps the biggest economic challenge it has seen since the 1930s.
"There is an almighty challenge ahead. It would be wrong of anyone to try to undermine the seriousness of the problems our economy now faces.
"I stand ready to play my part in helping protect the people of Wales.
"I am delighted that Carmarthen East and Dinefwr communities did record a Remain vote. Had the Labour party not lost the support of its core voters across the county , then we would have certainly seen Carmarthenshire as a whole vote to Remain a member of the EU."
Eluned Morgan AM, who had been actively campaigning for Remain across Mid and West Wales, said she was 'hugely disappointed' with the result.
"But we live in a democracy and that is what the people have decided," she remarked. "During our campaigning , we heard loud and clear that people are very worried about the difficulties struggling communities face.
"Our message that this was not about Europe but about working even harder to ensure we continue to invest in our communities to drive up investment, to create jobs, simply did not get across.
"This was made particularly hard for us having just come out of a gruelling Assembly election campaign. It will now be harder to make the economic investment we need , but what that means in practice is that we'll need to work even harder, including taking into account the clear geographic as well as class division rifts that this referendum has shown us.
"We need to connect. We need to listen – t hat's what I'll be continuing to do in Mid and West Wales. This result will have devastating economic political and constitutional effects on our communities for generations to come ."
Curiously, her concerns were not shared by Neil Hamilton AM or the Leader of the Welsh Conservatives , Andrew RT Davies. Mr Hamilton described June 23 as 'a historic day for Wales and democracy.'
"A decisive majority of Welsh people rejected the outrageous campaign of scaremongering and brow-beating by the political and big business elites," the UKIP Senedd leader added. "David Cameron presided over this and, having failed, he had to resign. George Osborne should now follow him without delay."
Andrew RT Davies, while not campaigning particularly actively for Vote Leave, had publicly stated his support before the Assembly elections.
Speaking after the referendum result was announced , he said: "I am immensely proud to be part of a party which delivered this referendum to the people of the UK, giving them an enormous opportunity to determine the course of their future.
"The will of the people has today been declared, and the result marks an historic moment of positive change for our country.
"Wales has sent a clear message that it wants to be part of that change, and politicians of all stripes must now come together to deliver on this momentous constitutional decision.
"The campaign was not without its strong disagreements, and it is important that we reflect on those who voted and campaigned to Remain.
"What unites both sides of the campaign is our belief in in the democratic process and our love for our country."
The question many people are asking is quite a simple one: What happens next? At some point, it is looking likely that Britain's Prime Minister will sign the Article 50 agreement , which will trigger a two year exit timescale. What is looking even more likely is that the hand on the pen will not be that of David Cameron.
Mr Cameron, who only pledged the referendum in a (disastrously unsuccessful) attempt to unify Tory Eurosceptics and as a sop to potential UKIP voters ahead of the 2015 election, has no intention of going down in history as the PM who signed his country out of Europe.
The Conservative Party at every level is sharply divided on the issue, and while a majority of Conservative MPs backed Remain, the results of this referendum appear to mean that a Vote Leave supporter is likely to take the reins, especially as a majority of Conservative voters backed Brexit.
It remains to be seen whether there is any lasting impact on the financial security of the UK, though the plummet in the value of sterling on Friday morning has only partially recovered. Foreign holidays will be more expensive, and it is thought that grocery costs could rise as well.
There has been a sharp increase in the number of reported incidents of racially motivated attacks following the referendum, something the Leave campaign's focus on immigration has been blamed for. However, there is no way of verifying this. Given that immigration was only ever partially the result of Britain's EU membership, certain aspects of the campaign, including Nigel Farage's infamous 'Breaking Point' billboards, were vilified for being misleading and for aggravating existing tensions.
If anything has been made clear by this referendum, it is an increasing unwillingness on the part of the British public to trust the word of politicians, combined with a feeling of dissociation from the political process.
Social media was full of comments from those who suspected the use of pencils in a ballot box was part of a Remain conspiracy – which possibly shows a certain lack of familiarity with voting procedure. However, the size of the turnout suggests that a number of people who do not regularly exercise their say in choosing their Member of Parliament, never mind AM, made the effort to vote on a subject that became increasingly emotive.
It will be interesting to see whether the Leave campaign will be capable of honouring their loosely worded pledges regarding immigration, NHS funding, and increased democracy should their leader Boris Johnson's sidekick Michael Gove, become Prime Minister.
One thing is certain: While only 52% of voters voted Leave, closer to 100% will be looking to make sure that these promises are kept.
Scarlets convincingly beat Ospreys
Rainbow Cup • Scarlets 22 – Ospreys 6
SCARLETS delivered a dominant derby performance to claim their first victory of the Rainbow Cup campaign, beating the Ospreys 22-6, at a rain-soaked Parc y Scarlets.
Prop Alex Jeffries scored the only try of the match, with full-back Leigh Halfpenny delivering a typically dead-eyed goal-kicking display in atrocious conditions.
The platform was laid by the Scarlets pack, with skipper Ken Owens, Blade Thomson and Aaron Shingler to the fore; the man of the match Kieran Hardy mixed up his game intelligently, while a much-improved defensive display saw the visitors restricted to just two kicks at goal from fly-half Luke Price.
It was the Ospreys who opened the scoring with a penalty from the boot of Price on two minutes, but the Scarlets responded strongly with Halfpenny levelling on 17 after the visitors were caught offside.
The outstanding Jonathan Davies looked like he made it over the whitewash after bursting through a couple of tackles, but the television match official adjudged the Wales centre had lost the ball as he slid over the whitewash and the score was chalked off.
Nevertheless, the Scarlets continued to boss proceedings.
With the Ospreys falling foul of Scottish referee Ben Blain, Halfpenny added a couple more penalties and an impressive half for the home side was capped when Jeffries crossed two minutes before the interval
A well-worked line-out move saw Davies burst onto a pass from Owens, breaking through a couple of tackles before feeding the tight-head prop on his inside.
Jeffries still had plenty to do but showed a superb turn of pace to race clear 20 metres to the whitewash to touch down against his former side.
That made it 16-3 at half-time with the Scarlets seemingly in firm control.
The visitors, looking for their first PRO14 win at Parc y Scarlets since 2015, did enjoy more of the game in the second period.
Price reduced the arrears with a penalty and it needed some superb defence to keep the Ospreys line-out maul at bay.
Another Halfpenny penalty five minutes from time extended the lead to 22-6 to ensure a comfortable victory and a seasonal double over the Scarlets' arch-rivals.
Three summer tests announced for Wales
WALES will play three summer tests in Cardiff this July as revised international fixtures have been announced.
Wayne Pivac's side will face Canada (July 3) and back-to-back games against Argentina (July 10 & 17) at Principality Stadium.
These tests replace the scheduled summer tour to Argentina which has had to be cancelled due to the on-going COVID-19 pandemic and uncertainty around travel restrictions.
The Pumas will now travel to Cardiff for two tests against the Six Nations Champions.
Wales will kick off their summer campaign on July 3 at home to Canada. The Canucks who are coached by former Wales captains Kingsley Jones and Rob Howley will visit Cardiff for the first time since 2008.
"We are looking forward to this summer, the opportunity it presents, and we are delighted to have three tests confirmed," said Wales head coach Wayne Pivac.
"It is disappointing not to have the opportunity to tour Argentina, especially on the back of our 2020 tour to New Zealand being cancelled, but in the current climate it is completely understandable.
"What is important is we have games and as we have said all along, this summer is a huge opportunity for us. We are delighted and proud to have 10 players selected for the British & Irish Lions, it is reward for all their hard work and we wish them all the best this summer.
"With those players away we always earmarked this summer as an important development opportunity for us.
"It is an opportunity to bring players into this environment, look at them closely and expose them to test match rugby. It is also an opportunity for current internationals to step-up into further leadership roles, so on both counts it is an important camp for us looking ahead to RWC2023."
WRU CEO Steve Phillips added: "It is a huge credit to World Rugby that a full schedule of summer international rugby has been achieved against the backdrop of the global pandemic.
"Whilst it is obviously disappointing not to tour, we are delighted in Wales to be hosting Canada and to be able to honour the 2017 San Francisco agreement by hosting the Pumas for back-to-back matches, which will be hugely important to our international player development.
"Wayne has been adamant that his squad needs matches this summer and World Rugby have certainly delivered on that front.
"We are, of course, acutely aware of current restrictions and the ongoing and complex global COVID-19 picture. We will continue to monitor the situation in terms of any potential spectator access, but will remain entirely compliant and vigilant of all restrictions.
"In the current circumstances we are simply delighted to be able to play international rugby and any advance on that will be a bonus."
A 48-7 victory over Italy leaves Wales a win from the Grand Slam
IT was always going to be a tough game for the Italian side, but now it is official, Wales are one win away from the Grand Slam!
Wales scored seven tries through Josh Adams, Taulupe Faletau, Ken Owens (2), George North, Callum Sheedy and Louis Rees-Zammit as they secured a comfortable Six Nations win in Rome.
The unbeaten tournament leaders reeled off a third successive bonus-point victory to increase pressure on their rivals for silverware. Italy meanwhile are staring down the barrel at another Wooden Spoon – they haven't won a Six Nations match since 2015.https://www.youtube.com/embed/QI4FARxZcKk?feature=oembed
STILL A BIT OF WORK TO DO
The Welsh captain, Alun Wyn Jones, who is just one win away from winning his fourth Six Nations Grand Slam told S4C: "We were pretty clinical, particularly in the first half.
"We're a tad frustrated with the second half but it's a case of job done and plenty to work on.
"The excitement I feel every time I pull on this red jersey is insurmountable, so I'm looking forward to getting back to it on Monday and preparing for next weekend."
Jones added: "It's job done, but there's still a bit to work on."
Another heavy defeat will again raise the inevitable questions about Italy's position in the Six Nations and whether there should be relegation.
The facts speak for themselves.
Today marked a 31st successive defeat for the Azzurri in the competition, with their last victory coming against Scotland in 2015.
Italy have not managed a home Six Nations win for eight years, with 20 successive losses.
Italy have conceded 187 points and 26 tries in four games this year.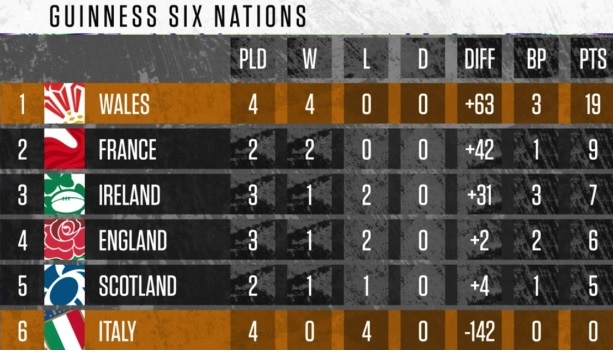 Line-ups
Italy: Trulla, Bellini, Brex, Canna, Ioane, Garbisi, Varney; Fischetti, Bigi (capt), Zilocchi, Cannone, Sisi, Negri, Meyer, Lamaro.
Replacements: Fabiani for Ioane (7-18), Lovotti for Fischetti (65) Riccioni for Zilocchi (33), Lazzaroni for Cannone (52), Mbanda for Meyer (26-36), Violi for Varney (63), Mori for Garbisi (54) Padovani for Trulla (44).
Wales: L Williams; Rees-Zammit, North, J Davies, Adams; Biggar, G Davies; W Jones, Owens, Tomas Francis, Hill, AW Jones (capt), Navidi, Tipuric, Faletau.
Replacements: Dee for Owens (54), Carre for W Jones (57), Brown for Francis (45), Ball for AW Jones (54), Wainwright for Faletau (51), L Williams for G Davies (52), Sheedy for Biggar (52), Halaholo for North (46)
Match officials
Referee: Wayne Barnes (England)
Touch judges: Pascal Gauzere (France) & Christophe Ridley (England)
TMO: Tom Foley (England)https://platform.twitter.com/embed/Tweet.html?dnt=true&embedId=twitter-widget-0&frame=false&hideCard=false&hideThread=false&id=1370764974163947527&lang=en-gb&origin=https%3A%2F%2Fwww.herald.wales%2Fsport%2Fa-48-7-victory-over-italy-leaves-wales-a-win-from-the-grand-slam%2F&theme=light&widgetsVersion=e1ffbdb%3A1614796141937&width=500px
MATCH ANALYSIS
Surely it was discipline that was the main problem for Italy.
Mistakes and an incredible ability to give away stupid penalties, as a series of needless errors allowed the visitors to build an insurmountable lead early on.
It all started with Paolo Garbisi sending the ball dead from the kick-off before Luca Bigi infringed at the breakdown. The captain then cynically stopped a Gareth Davies quick tap and was duly yellow carded. Against 14 men, Wales built up an advantage they would not relinquish as the visitors won the game before it had really started. It was not a good example from the skipper and is symptomatic of where the Italians are currently at.
Arguably since before the 2017 British and Irish Lions tour, the back has struggled for form, leading many to question whether that was it for the Welsh centurion. Although he is only 28, it must be remembered that North has been around at the top level for a long time and there is only so much the body can take in modern day rugby. However, the move into the midfield seems to have given him a new lease of life.
To the surprise of many, Callum Sheedy did not start against Italy after his superb performance versus England. Instead, it was the much criticised Dan Biggar who continued at fly-half and produced a significantly improved display before giving way to the Bristol playmaker in the second period. Sheedy was also excellent when he came on and it leaves Wayne Pivac with a decision to make going forward. No doubt, Biggar will start next week against France – albeit the head coach is not afraid of making a big call – but the 25-year-old is certainly not far off the first XV.
Much has been said and written about the Azzurri's continued presence in the Six Nations and based on the evidence in this fixture, they really shouldn't be playing in a competition of this stature. Franco Smith's charges were never at the races with Wales racing into a 22-0 lead midway through the half without really breaking a sweat. Italy hardly threatened on attack – especially during the first half – and it looked like it was a case of men against boys for large periods of this Test. The result means they have now lost 31 matches on the trot, which is the longest losing streak in the history of the Championship, and they last tasted victory in a Round Three clash against Scotland in 2015. The time is now ripe for tournament organisers to reconsider their participation.
Although Italy were never in this encounter, Wales deserve plenty of credit as they impressed for the entire game and made full use of the opportunities which were presented to them.
Pivac will be delighted with the clinical fashion with which his players went about their business and they had their bonus point in the bag by the half-hour mark after Josh Adams, Taulupe Faletau and Ken Owens (2) crossed for tries. Despite leading 27-0 at the interval, Wales did not take their foot of the pedal with North also crossing the whitewash soon after the restart and although Monty Ioane scored a try for the hosts, that was a mere blip as Wales continued to dominate and sealed their win with five-pointers from Sheedy and Louis Rees-Zammit.