It shouldn't happen to a Health Minister
IT'S NOT easy being a Welsh Government Minister.
There are so many new words to learn when you get into office and so many old ones to forget.
For example, take the word 'cut'. It's a very simple three letter word. But once you become a Welsh Government Minister, you are not allowed to use it.
Instead, at least as far as Welsh Government policies go, the word 'cut' has to be replaced with the far more unwieldy 'transformation' or the two-word mouthful 'transformational change'.
ANGRY ANGELA ATTACKS
As you will see elsewhere in this newspaper, Hywel Dda UHB – to nobody's surprise – has been caught on the hop by people discovering that when it talks about 'transforming clinical services' it means 'cuts and closures'. You could argue that cuts are in themselves transformational, at least in the same way that being guillotined was transformational for the French aristocracy.
On Wednesday​ (Jan 24)​, Vaughan Gething was faced with a barrage of topical questions, which he confronted with the enthusiasm and delight of Louis XVI on his final journey to Place de la Révolution.
You wouldn't want to get on the wrong side of Angela Burns, the Carmarthen West and South Pembrokeshire AM who speaks for her party on Health in the Senedd.
Crikey Moses! After a brief initial question, she tore into the Health Board, the Welsh Government, the First Minister, Labour backbenchers, Mr Gething and almost managed to get to Uncle Tom Cobley and all in a positively breathless display of genuine outrage.
Picking up a copy of the Parliamentary Review of Welsh Health Services, unanimously backed by Senedd members the previous week, she handled it between two fingers as though it was a particularly badly soiled nappy.
It was quite bad enough, Mrs Burns said, for the First Minister and his backbenchers to behave in a supercilious and arrogant fashion towards members raising their constituents' concerns, it was quite another to obtain cross party agreement on the strategic direction of Welsh health services and then ignore the very principles that underpin it.
Mr Gething got to his feet and momentarily looked shell-shocked. Unlike the First Minister, there were almost no Labour members present to prop him up, bray, and snipe at the opposition with sarcastic remarks. However, the Cabinet Secretary is nothing if not smooth and polished. More than capable of bandying around banal generalities, Mr Gething soon adjusted himself into his usual smooth delivery of assurances about 'meaningful consultations'.
Demonstrating the same sort of faulty memory that could yet come to unglue his leader, Vaughan Gething continued by saying that his boss had not been in any way supercilious.
Mr Jones' stock in trade is supercilious.
Perhaps Mr Gething had not been paying attention; because having watched the previous day's First Minister's Questions and the business statement which preceded Mrs Burns' questions, you would have to say that Mrs Burns had it pretty much nailed on.
ASK ME NO QUESTIONS
It didn't get much better for Mr Gething, despite his stream of soothing words and assurances of good intentions. There used to be a saying that you couldn't knit fog. Well, you certainly couldn't weave whole fabric out of Mr Gething's non-answers.
Mr Gething was very clear that he couldn't answer direct questions because of protocol and the risk that he might have to make final decisions on a consultation which had not yet started. Which was very odd, because the previous day Carwyn Jones had decided he wouldn't comment because the consultation was 'open'. Open or closed, Mr Gething was prepared to fall back on the 'all changes are difficult' line. As an alternative tack, he attempted a switch to 'difficult choices have to be made'.
So often did he repeat these lines, or variations on them, that it appeared as though poor Mr Gething had got stuck in one of those time loops beloved of science fiction programmes that need to create a cheap episode to make up for blowing the make-up budget on Slurb the Invincible or some such in a preceding one.
WHERE'S HELP WHEN YOU NEED IT?
Paul Davies had a go after Mrs Burns. Mr Davies doesn't really do splenetic outrage, but he was clearly peeved – testy even. In a calm and measured way, he berated the Health Board for even proposing, never mind contemplating the closure of Withybush Hospital.
In response, Mr Gething tried a different tactic. While he appreciated that local sentiment was strong, it would be the same across Wales as tough decisions – hard choices – had to be made everywhere across the nation. This was, Mr Gething suggested, a national issue.
Mr Gething's words would have had more weight on that score had he been accompanied by members of the Welsh Assembly from his own party. Apart from Mark Drakeford seated to his right, Mr Gething appeared terribly alone. The rest of the chamber was devoid of a Labour presence, demonstrating just how seriously west Wales' concerns were being taken by all those south Wales AMs upon which the party depends for its majority.
Simon Thomas, incongruously seated next to Neil Hamilton, was next to tackle Mr Gething's dead bat defence.
Pointing out the way in which the First Minister had sought to use the Parliamentary Review in an effort to deflect either criticism or inquiry, Mr Thomas told the Cabinet Secretary that the review was published too late to influence any proposals advanced by Hywel Dda.
After ungallantly pointing out that Labour's candidate in the 2015 General Election, Paul Miller, had stood on a platform of restoring the paediatric services to Withybush – which had been removed temporarily without consultation – and had still not returned, he suggested this was the opportunity to test the strength of the Parliamentary Review's framework.
NO STOPPING A CONSULTATION
Mr Gething lost his way a little as he said it wouldn't be right for him 'to attempt to instruct' the health board to stop its consultation now. That would be the consultation that has not started, as the Cabinet Secretary had previously made clear just minutes before.
Difficult conversations needed to be had, tough choices had to be made, and the public would be properly engaged in the process of helping to make those tough choices after taking part in those difficult conversations.
You could see the cogs clicking away as Mr Gething spun new golden platitudes out of old strawmen.
Joyce Watson, whose support for retaining services in the past was less than fulsome, said it was very important that the public was told Withybush was not closing immediately. As this had never been suggested anywhere, it was hard to see what point Joyce Watson was trying to make; but having been thrown a life preserver, Mr Gething clung to it. He agreed that there was no plan to close Withybush in the immediate future. A relief for those attending outpatients next week to have their bunions filed.
Mr Gething then proceeded to point out that other hospitals were also mentioned in the options that had been leaked and that there could be those hard conversations and tough choices to be made in respect of them. But never mind, there would be a genuine and meaningful consultation and, if not, there would be a meaningful and genuine one. That's what he expected the Board to do. Although, of course, he couldn't tell them that was what was needed, because he might end up having to make one of those difficult choices after hard and tough conversations.
HAMILTON'S FORK
Neil Hamilton was next. Reaching for his pantomime pitchfork, he rather nastily skewered the Cabinet Secretary on its tines.
Remarking on Mr Gething's status as the government's fire blanket for successive health board failings everywhere, he posed the rather more difficult question of whether the threat to Withybush could be boiled down to death by a thousand cuts?
Tellingly, he suggested: "It must be regarded as a ridiculous proposal to close Withybush—even in contemplation in the medium term, let alone the short term. The health board should, when it produces the list of options for people to discuss, avoid causing unnecessary alarm and consternation by producing extreme proposals that are not going to be followed through."
He then rather neatly suggested the real problem was a complete lack of accountability in the health service. Community Health Councils, Health Boards, were not elected bodies and the truth was that everything ended up on the Health Secretary's desk. 'People on the ground feel they have no voice at all," Mr Hamilton said.
Vaughan Gething could see the home stretch coming.
There would be a meaningful conversation about tough choices in a difficult consultation, in which the views of clinicians would be heard as well as those of the public. It would be rather mean to point out that there is a difference between hearing and listening.
Particularly as those conversations will be tough, difficult, hard, meaningful, and genuine.
Then Mr Gething concluded on a point that he must now be grateful he did not open with.
Concluding he volunteered​,​ he didn't want to be in the position in the future where the Government will be asked​:​ 'Why didn't you do something about a part of the service that really has gone wrong?'
That remark rather fortunately leaves the question unasked as to what all the previous tough choices after hard conversations and meaningful consultations over the last twelve years were actually for.
That would be a difficult – if not unanswerable – question.
Labour win leaves every party with problems
AGAINST all predictions, the elections to the Welsh Parliament have produced neither a coalition nor a breakthrough for either the Conservatives or Plaid Cymru.

Instead, Mark Drakeford will return to Cardiff Bay as First Minister at the head of a Labour Government.

Although thirty seats is not an overall majority, something Labour has never had in Wales, it is more than enough to form a government able to advance its policies with very little horse-trading.

The presence in the Welsh Parliament of a lone Liberal Democrat, Jane Dodds, will almost certainly lead to Labour having 31 dependable votes without having to do too many deals with Plaid Cymru to get what it wants.
CONSERVATIVES STILL WAIT FOR THE GREAT LEAP FORWARD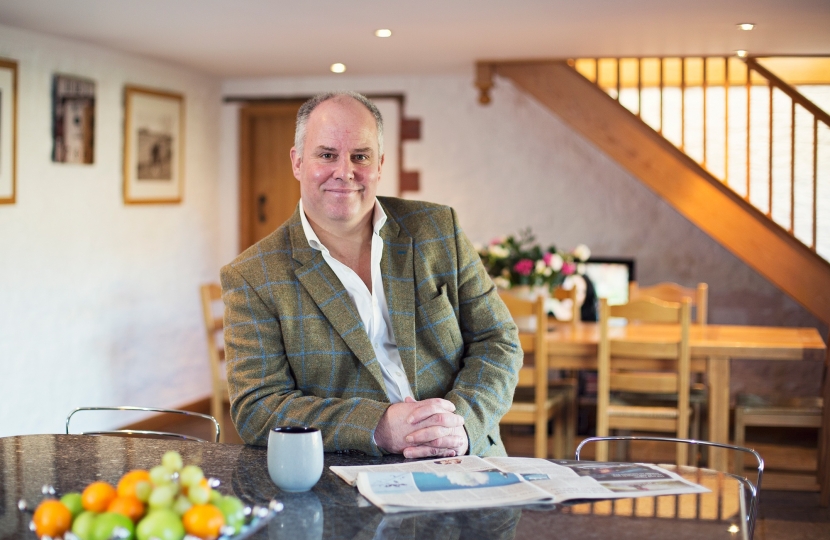 The Conservatives captured only one of their target seats, the Vale of Clwyd. They racked up impressive performances in seats they already held.

Apart from the Vale of Clwyd, they failed to make any breakthroughs in North Wales. In seats like Cardiff North and the Vale of Glamorgan, the Conservatives went backwards at a rate of knots.

Already 'sources' in the Conservatives claim it's because the party in Wales didn't capitalise on the Brexit vote. That, again, reveals a party too intent on internal faction-fighting and reliving the Brexit psychodrama than one focussed adequately on the present and the future.

It also rewrites history (the Conservatives did rather well in December 2019) and ignores an important reality.

Mark Drakeford's profile during the last year rose.

His regular public briefings brought him and the powers the Labour Government has in Cardiff Bay into people's daily lives.

As Labour Minister Lee Waters admitted, Mark Drakeford might be 'a bit nerdy, a bit boring', but he was Labour's biggest electoral asset.

As the Conservatives in Wales cleaved to an ever-closer union with Boris Johnson's Westminster Government, the personal contest boiled down to Boris versus Mark.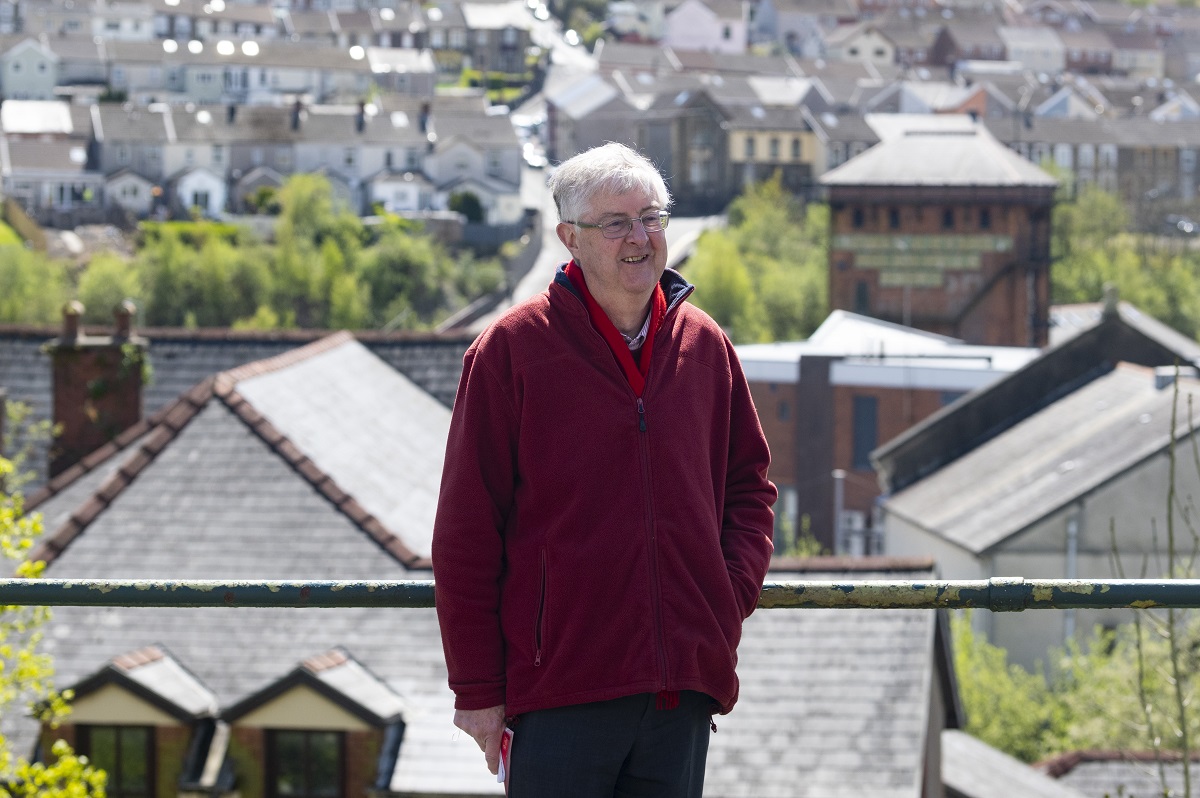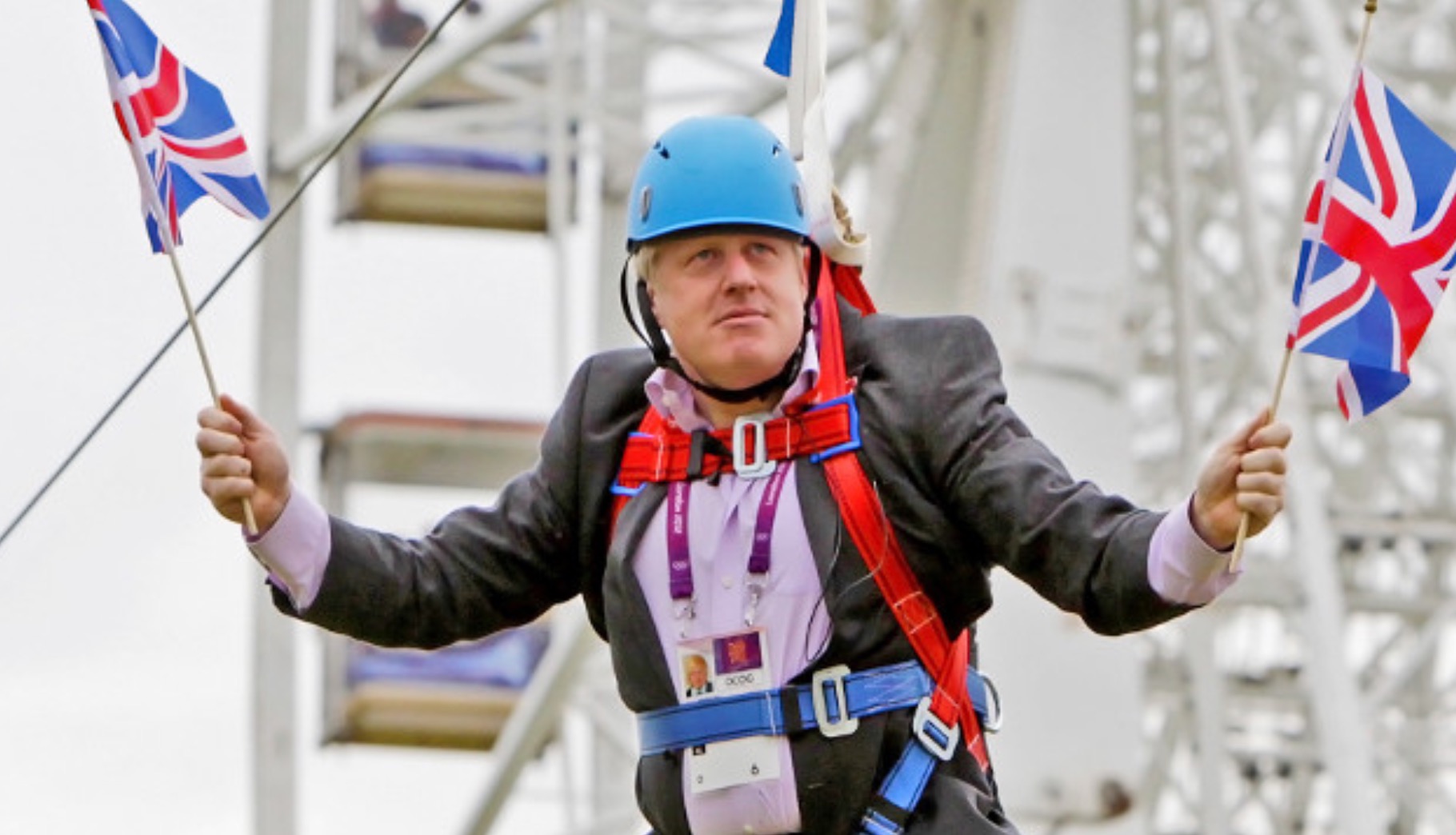 The Welsh public took one look at the calm and (yes) boring Mark Drakeford and the shambling sloganeering Boris Johnson and decided which they preferred.

The Welsh Government's steady and cautious approach to the pandemic contrasts favourably with the scandal-mired and higgledy-piggledy approach over Offa's Dyke.

Suppose the Conservatives in Cardiff Bay continue to behave like sock puppets for Westminster. In that case, they will never break through to a Welsh public that has not returned a Conservative majority since the nineteenth century.

Someone needs to sit down and explain that to Andrew RT Davies and his handlers in plain and honest language.

The question boils down to this: are you Welsh Conservatives with a plan for Wales or Conservatives in Wales with an agenda set by Westminster and the Welsh Office?

The Conservatives cannot ride two horses at once and need to be upfront about who and what they are.

That said, the Conservatives are Wales' second party – and by some margin, too. The validity of conservatism as a force in Welsh politics can be neither ignored nor understated.
No matter how much abuse is flung at their candidates and activists on social media by activists from the left and/or those supporting independence, that's a political reality and will remain so for some time.

A failure to acknowledge opposing ideas not only exist but have the right to exist is a fatal flaw in both nationalist and left-wing politics. Particularly for the former: without persuading small 'c' conservatives to support independence, the chances of winning a referendum are practically nil.
PLAID LOOK FOR DIRECTION AND A FUTURE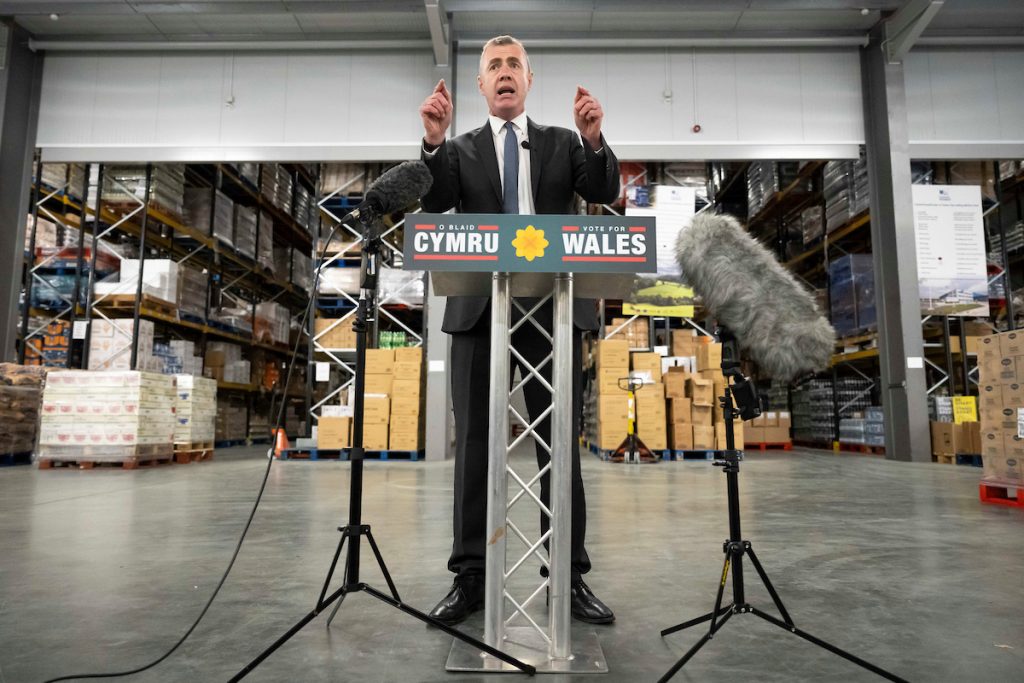 The election was undoubtedly disappointing for Plaid Cymru. Brave talk and bold promises did not convert to votes where it mattered.

In target marginals, their vote simply didn't materialise.

Plaid Cymru lost former leader Leanne Wood, and Helen Mary Jones was crushed in Llanelli.

Llanelli has long been the most marginal seat in Wales. Lee Waters' new majority is some way north of 5,500 and looks to have ended Helen Mary Jones' long political career.

In Preseli Pembrokeshire, Cris Tomos increased Plaid's vote by over 50%. In Carmarthen West and South Pembrokeshire, Plaid's vote-share went up by over a fifth.

That happened through a volunteer effort as resources were piled into Llanelli, where Plaid was routed.

Plaid has less money than other parties. The folly of pouring resources into a single seat shows weakness. There was no need for a paid organiser for one seat – it should've been a regional effort to maximise Plaid's regional vote.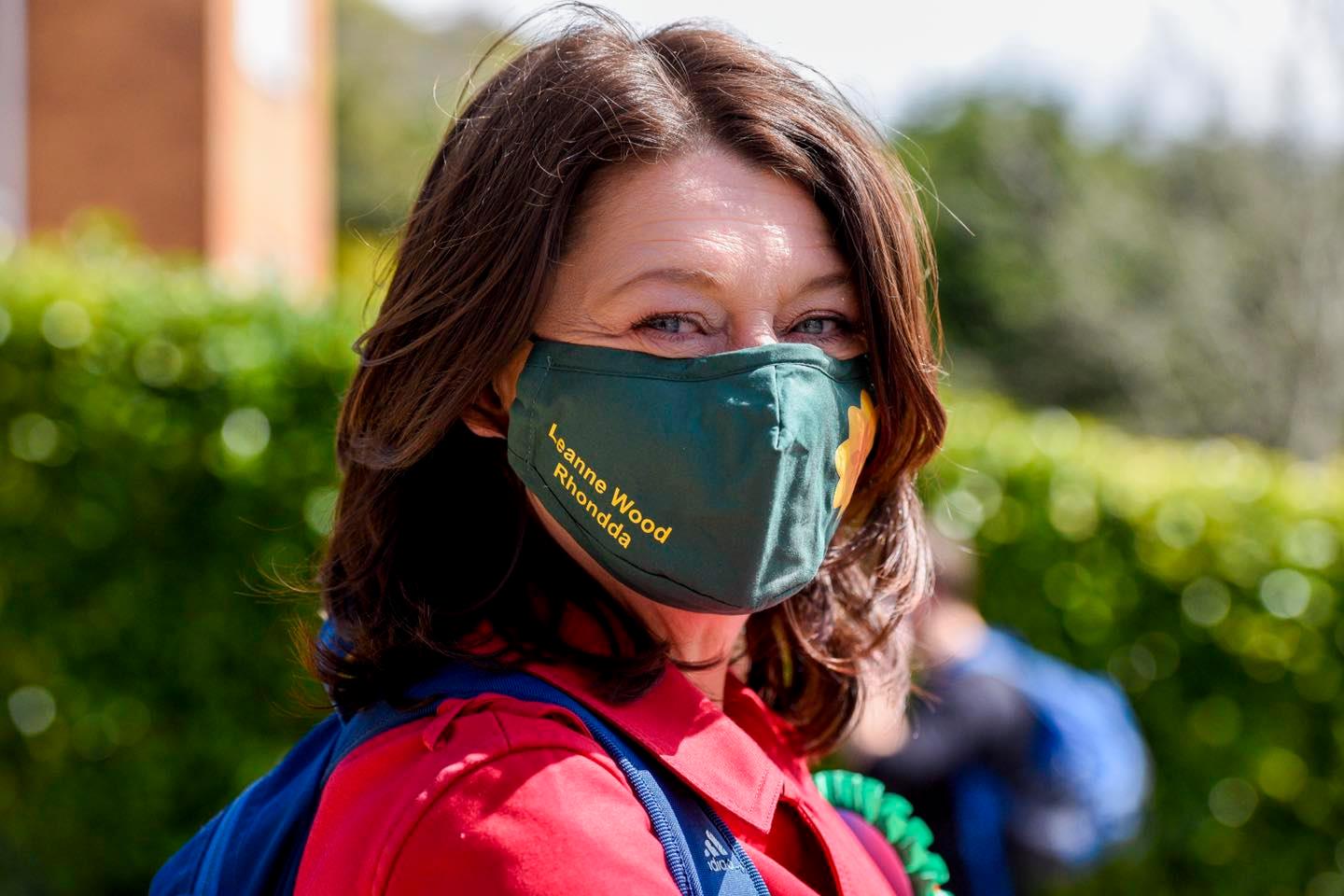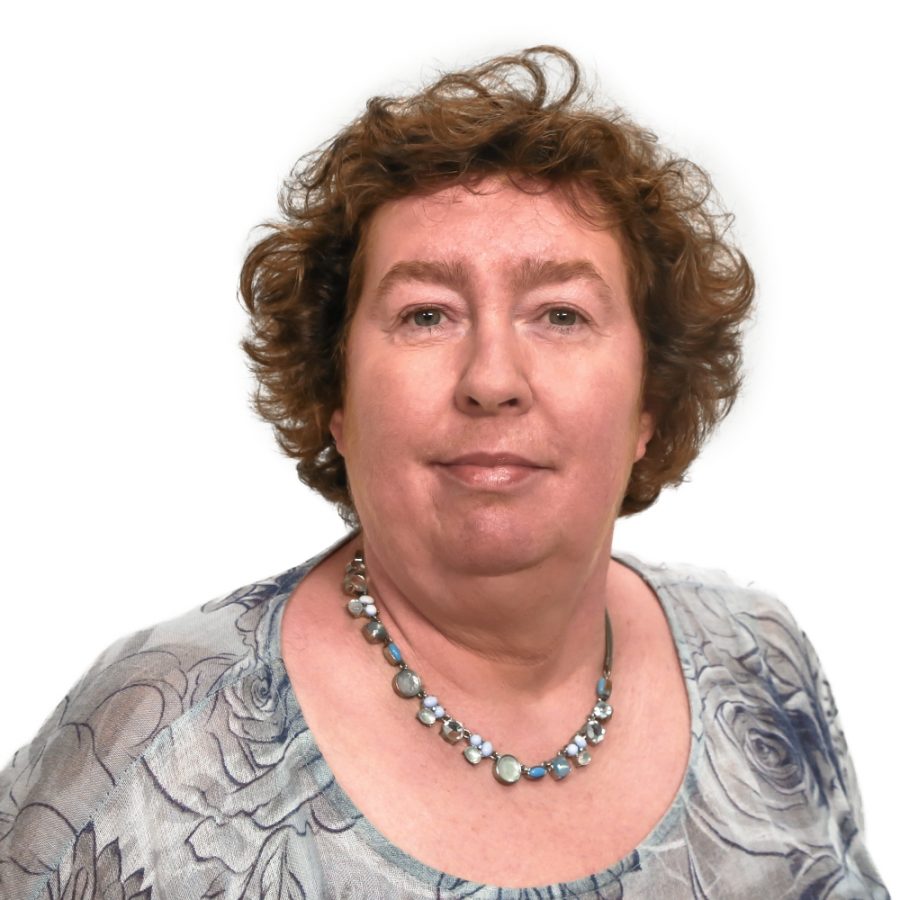 While the losses of Leanne Wood and Helen Mary Jones are undoubtedly a blow to Plaid Cymru in the Senedd, it is unlikely to upset too many more traditionally-minded party activists.

Plaid's core problem is that its central office staff and its national executive consists of factional activists who pursue sectional interests above creating a policy agenda that speaks to the sort of voters Plaid needs to pick up.

Those small 'c' conservatives – socially conservative but inclined to Plaid on other issues – have no home or voice in the party.

They might vote Labour. They might vote Conservative. Far worse, they might not vote at all. And they will not vote for Plaid.

If Plaid is going to be a third party with influence, instead of a ginger group constantly on the fringes of power but without ever exercising it, it needs to professionalise its organisation and stop the nonsense which ties the hands of regional campaigns.

There's no point having your head in the clouds if you're hurtling towards the ground without a parachute.
TIME TO ABOLISH ABOLISH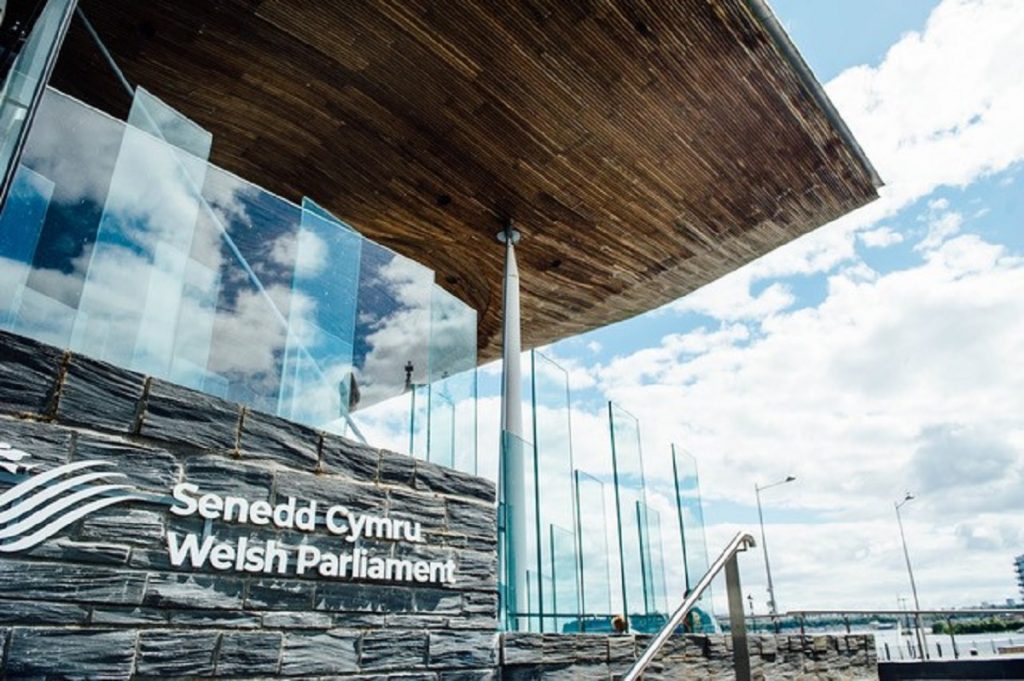 A website, a slogan, a few polls. Constantly bigged-up by the London media and the BBC, Abolish the Assembly (sic.) got exactly what it deserved.

Bog all.

The Greens outperformed Abolish – again – demonstrating the farce of Richard Suchorzewski's invitation from the BBC to the main leadership debate for what it was.

While the Abolish voice will not be silenced, its hammering will ensure it won't be given a free pass in the future.

After five years of faction-fighting, UKIP's vote predictably collapsed.

Only one of its candidates – Paul Dowson in Carmarthen West and South Pembrokeshire – came within 50 of getting 1,000 votes in any constituency.

As Welsh online media becomes more diverse and breaks through to more people in Wales, and it will, the hold of London dead tree media will decrease. The chances of fringe single-issue parties getting the coverage and exposure they enjoyed before the election will recede.

Not because those voices aren't necessary, but because the voters – those who consume media – don't think they're important enough to justify coverage.

The argument about abolition is over. What remains is the debate about what powers the Welsh Parliament has in the future.
THE THREAT TO LABOUR
When a party has performed so far above pollsters' expectations in an election, it sounds strange to speak of its threats and problems.

But there are issues that Labour cannot ignore.

It has no excuse left for not delivering its modest policy agenda within the five years of this Welsh Parliament.

Secondly, turnout in Labour safe seats – those with no second party threat – was humiliatingly small. Swansea East turned out barely a third of its electorate, and Merthyr and Rhymney 35%. That's no ringing endorsement for a sitting government from its core voters.

The politics of Wales outside Labour safe seats were far more dynamic, and the electoral significantly more engaged.

Although barely half of 16-17-year-olds registered to vote, most of those who registered voted. And a basic assessment suggests they voted disproportionately for Plaid and the Green party over the big two.

Complacency is also a risk. Labour cannot just sit back; it's got a more-or-less working majority under its own steam. There can be no excuses now.

The pandemic was the Welsh Government's unseen friend in this election. It raised the Welsh Government's profile within Wales and showed the public what the Welsh Government could do with its powers. It boosted Mark Drakeford's public profile.

As the campaign went on it became noticeable other Labour ministers faded into the background in favour of a focus on Mark Drakeford's personal qualities.

In the past, this was called 'the doctor's mandate' in UK elections, and Mark Drakeford's evident diligence and doggedness played well.

In the absence of the pandemic, it's hard to see how Labour could've maintained its death-grip on the levers of power unaided.

The biggest challenge for Labour is who succeeds Mark Drakeford and when.

He said he would stand down in this Parliamentary term, and that leaves Labour a real difficulty.

The personal focus on Mark Drakeford deflected attention from the shortcomings of pretenders to his throne.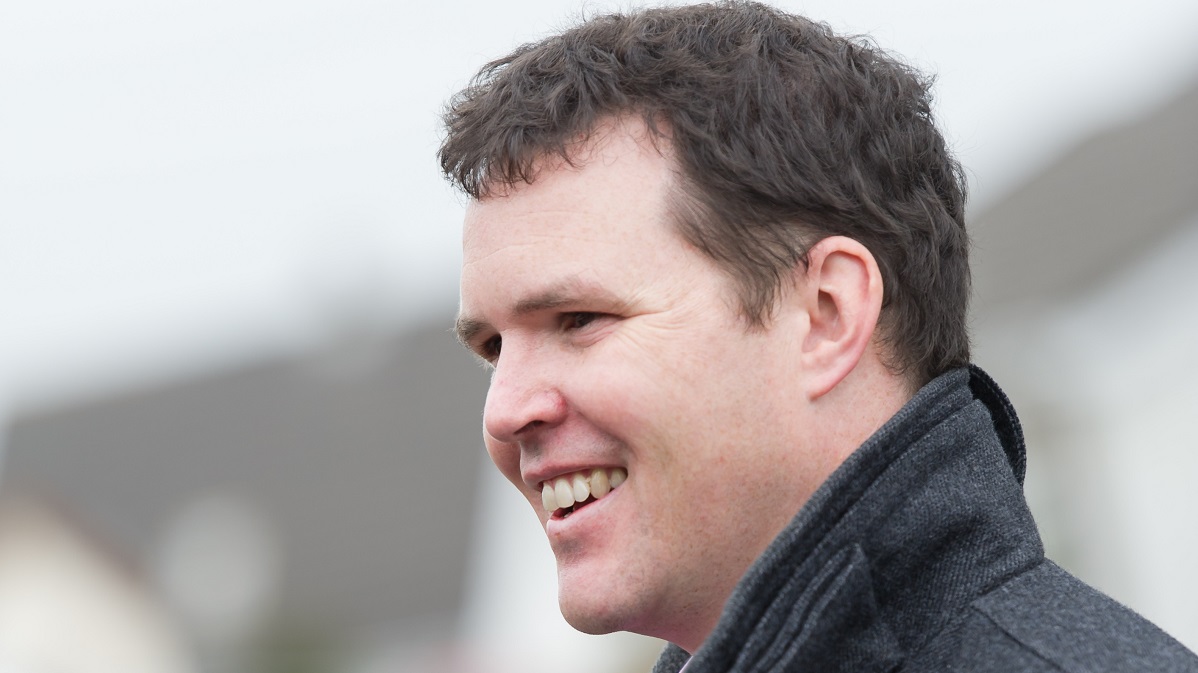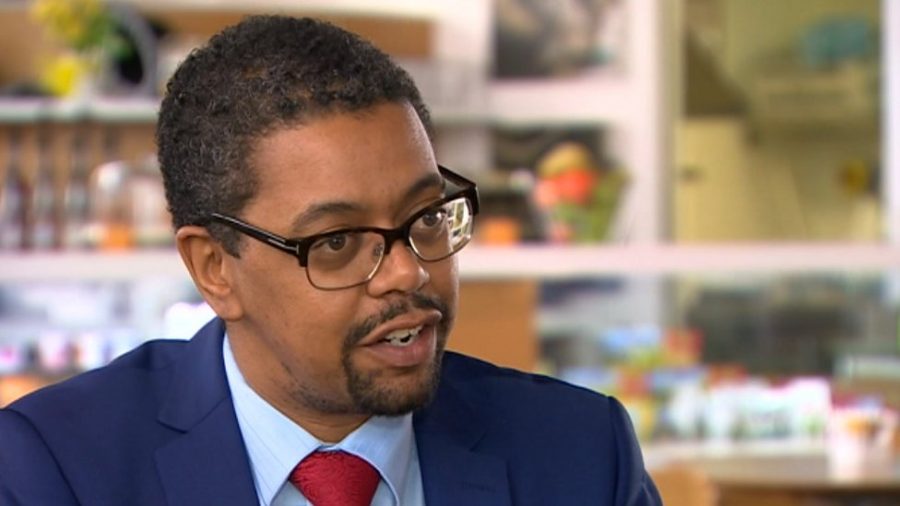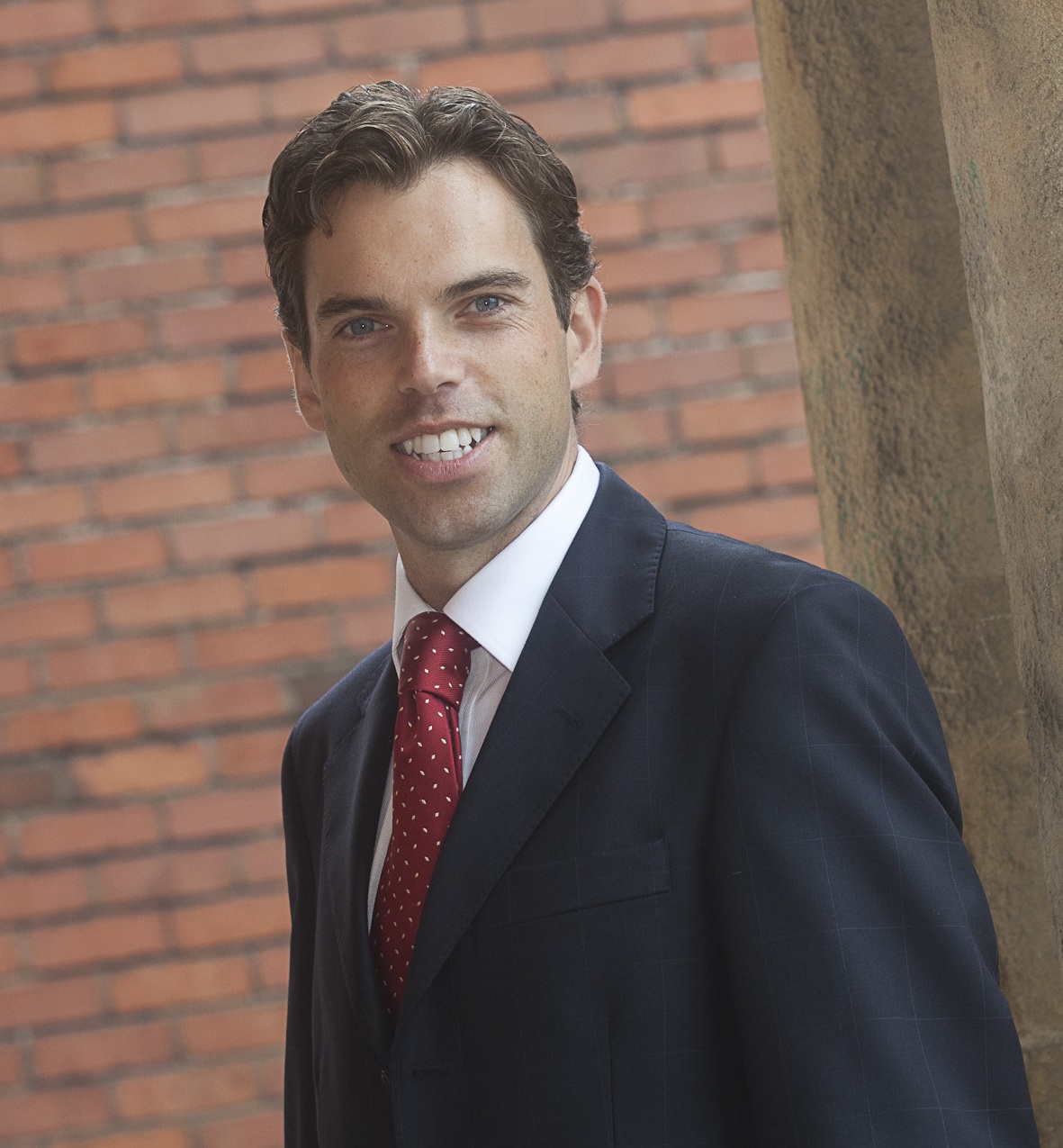 Vaughan Gething: patronising, easily rattled, waspish, doesn't command the detail.

Ken Skates: unfairly labelled plastic but with a sound grasp of policy but almost no public profile to speak of.

Probably the ablest of the Welsh ministers is Lee Waters. He is bright and articulate but hamstrung by a reputation for being 'difficult'.

Nine out of ten voters probably couldn't name any other members of the last Labour cabinet. Unless you're a farmer. In which case, you'll have a Lesley Griffiths dartboard.

Without Mark Drakeford at the helm, there's a distinct shortage of candidates with either the public profile or political weight to take up the post of First Minister.

Wind forward five years, Labour faces a real fight if it fails to deliver on its limited manifesto and lacks a leader who appeals to the wider Welsh public and not just Labour's endemic tribalism.

Then the political landscape of Wales might well change.
Three Labour police and crime commissioners elected in Wales
FOUR police and crime commissioners have been elected in Wales. The results have been announced after the Police and Crime Commissioner elections took place on Thursday.
Labour now has three of four of Wales' police and crime commissioners (PCCs) after Andy Dunbobbin secured a gain for the party in north Wales.
The other three PCCs were re-elected and between them all, they decide how £760m of Wales' police budget is spent.
The voting system used means unless a candidate gets more than 50% of votes in the first round of counting, all but the top two candidates are eliminated from the election – and secondary votes on the ballot paper are then counted.
PCCs are elected representatives who work to ensure police forces in England and Wales are running effectively.
They replaced police authorities in 2012 and were intended to bring a public voice to policing.
The UK government insists PCCs are not there to run local police forces but to hold them to account and respond to the needs of the public.
The roundup for each police force area is as follows:
South Wales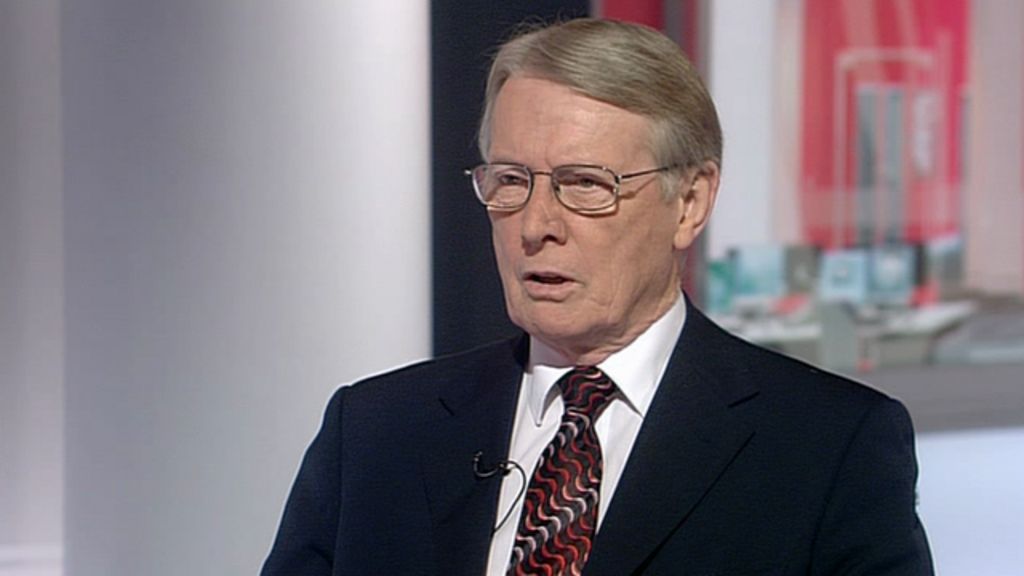 First round:
Alun Michael (Labour): 177,110
Steve Gallagher (Conservative): 102,465
Nadine Marshall (Plaid Cymru): 82,246
Mike Baker (Independent): 37,110
Callum Littlemore (Liberal Democrats): 19,907
Gail John (Propel): 13,263
Second round:
Alun Michael (Labour): 48,353
Steve Gallagher (Conservative): 25,379
Alun Michael has been re-elected as Police and Crime Commissioner by the communities of South Wales for the third time.
The result of the election for the post was declared earlier today at the Memo Arts Centre in Barry.
Mr Michael said: "I am pleased to have had the support of the electorate across South Wales and to have been re-elected as Police and Crime Commissioner for the third time. A great deal has been achieved through some very difficult years for policing but I am very keen for us to build on the firm foundations that we have put in place, and I shall be saying more shortly about my plans and ambitions for the next three years.
"While the past 12 months have been immensely difficult for everyone, we have worked with partners in Welsh Government and Local Government to keep the people of South Wales safe and the close joint working has brought about some very positive developments as has the cooperation between all parts of the Criminal Justice System in Wales so I want to thank the public, the members of my own team and to the Chief Constable, Jeremy Vaughan, and officers and staff across South Wales Police. Together we must now face challenge of recovering from the Covid-19 pandemic while at the same time working hard to reduce and prevent crime in our communities and deal with new and emerging demands that have an impact on policing. I relish the challenge and now that the election is over I will work with the Chief Constable to pursue our shared ambition of giving the communities of South Wales the best possible police service. We will pursue that aim, along with the aim of preventing harm, by working with our partners, always achieving more together than we can achieve alone."
Chief Constable Jeremy Vaughan said: "I would like to congratulate Alun Michael on his re-election as the Police and Crime Commissioner for South Wales. I have enjoyed a very positive working relationship with Alun over several years and I look forward to continuing our work to keep the communities of South Wales safe. My focus remains on leading the force in addressing the challenges in our communities, including serious violence and knife crime, domestic abuse, drug dealing and protecting the vulnerable. By continuing to work with the Commissioner's Team and in partnership with other organisations we can continue to protect the public and look after those who need us most."
Gwent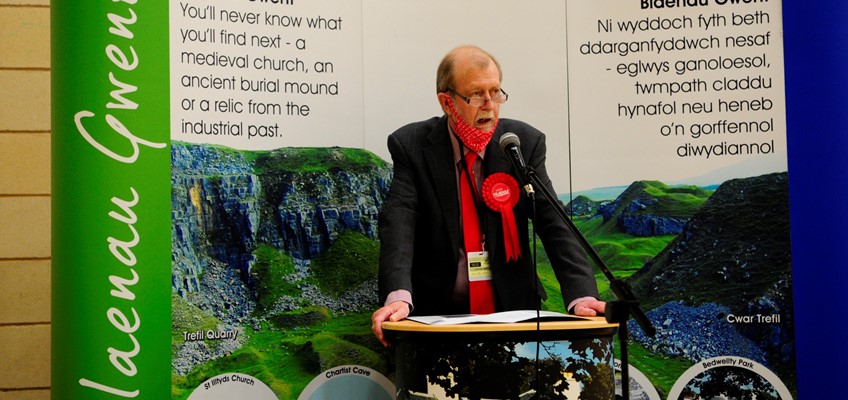 First round:
Donna Cushing (Plaid Cymru): 29,392
Jeff Cuthbert (Labour and Co-operative Party): 75,775
Paul Harley (Independent): 13,601
Hannah Jarvis (Conservative Party): 52,313
Clayton Jones (Gwlad – The Welsh Independence Party): 2,615
John Miller – Liberal Democrats: (7,640)
Second round:
Jeff Cuthbert (Labour and Co-operative Party):16,841
Hannah Jarvis (Welsh Conservative Party): 8,223
Jeff Cuthbert said: "I am delighted to be able to serve Gwent as Police and Crime Commissioner for another term and would like to sincerely thank everyone who took the time to vote in the election.
"I must also thank my deputy, Eleri Thomas, who I propose to re-appoint as Deputy Police and Crime Commissioner, and my colleagues at the Office of the Police and Crime Commissioner for their work over the last five years.
"Working together with the Chief Constable of Gwent Police and key partners we have achieved much over the last term of which I am incredibly proud. Together we have worked to ensure that we are protecting the most vulnerable in our society, building greater cohesion within our communities, and that Gwent Police officers and staff have the resources they need to protect and reassure our residents to the best of their ability.
"I know that we still have much to do and in the coming weeks I will begin working on my new Police and Crime Plan for Gwent that will set out my priorities for the next three years
Dyfed Powys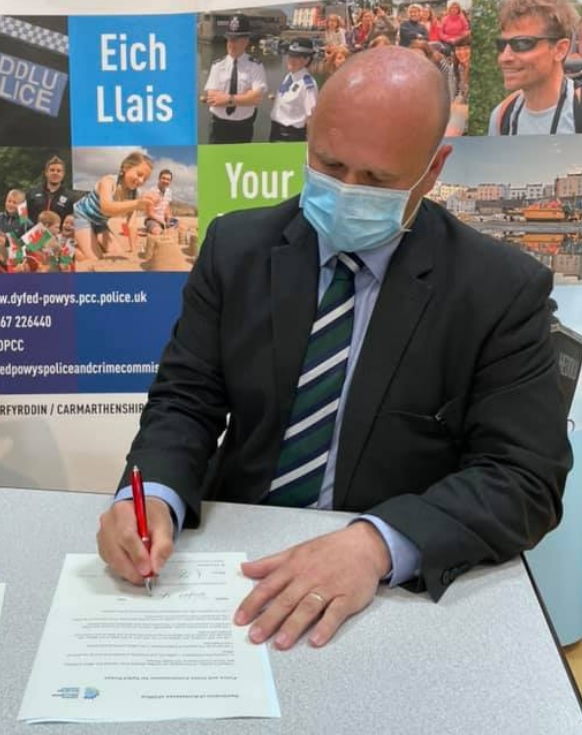 First round:
Jon Burns (Conservatives): 69,112
Dafydd Llywelyn (Plaid Cymru): 68,208
Philippa Thompson (Labour): 48,033
Glyn Preston (Welsh Liberal Democrats) 17,649
Second round:
Jon Burns: 8,209
Dafydd Llywelyn: 26,280
Dafydd Llywelyn issued the following statement: "I am extremely pleased to be re-elected as your Police and Crime Commissioner. As your current Commissioner, operational, front-line policing has, and always will come before party politics. I have a strong track record of delivering on my promises and of listening to the communities of Dyfed Powys. I am proud of what I have achieved since 2016, but there is still so much to do.
"Your safety is my top priority. I want to ensure that the Dyfed Powys Police Force remains one of the safest places to live in Wales and England."
North Wales
First round:
Mark Young (Independent): 15,907
Andy Dunbobbin (Labour): 69,459
Lisa Wilkins (Welsh Liberal Democrats): 10,149
Pat Astbury (Conservative): 75,472
Ann Griffith (Plaid Cymru): 67,672
Second round:
Andy Dunbobbin (Labour): 28,575
Pat Astbury (Conservative): 14,677
The new Police and Crime Commissioner for the North Wales Police area is Labour's Andy Dunbobbin.
He said: "Visibility in our communities would be my top priority. We all want to be safe and secure – this really matters to us. Having a more visible police presence would reassure our communities and help towards us reclaiming the streets. I also feel that more visibility on social media platforms needs to happen and I would work collaboratively, cross-party to challenge social media companies so the police can take further action.
"There has been a decade of unprecedented cuts in policing and to Welsh Government from the Conservative UK government. This is why the Welsh Labour Government's investment in additional PCSOs has been so vital – and why I'm so pleased the Welsh Labour manifesto has a pledge to deliver 100 more. Whereas the Conservatives have said they will end the funding for this scheme – meaning a loss of 500 PCSOs from patrolling Welsh streets."
Mr Dunbobbin's victory comes after the previous PPC Arfon Jones announced he would not stand again after being elected in 2016.
On Sunday the 46-year-old was elected after standing against four other candidates: Patricia Astbury, Conservative, Ann Griffith, Plaid Cymru, Lisa Wilkins, Liberal Democrats and independent candidate Mark John Young.
He won with 98,034 overall votes defeating Conservative rival Pat Astbury by 7,885 votes after second preference ballots were added in.
Covid-19 restriction relaxations in Wales brought forward
THE WELSH GOVERNMENT will be accelerating elements of its programme to relax Covid-19 restrictions as cases of new infections continue to fall across Wales, the First Minister today announced.
People will be able to form an extended household, visit the gym or take part in organised outdoor activities a week earlier than planned, as the public health situation – and vaccination rates – continue to improve.
The First Minister last week set out a detailed timetable for moving Wales firmly into alert level three. But some of these measures will now be introduced sooner than planned as cases have fallen markedly from 37 cases per 100,000 people to fewer than 21 per 100,000 this week.
The pressure on hospitals also continues to ease. Confirmed cases in hospital beds continue to reduce, and now stands at 89. This is 26% lower than last Thursday and is the lowest position since 22 September 2020.
The planned opening date for organised outdoor activities and outdoor wedding receptions will be moved forward to Monday 26 April from 3 May.
And, from Monday 3 May, a week earlier than previously signalled, gyms, leisure centres and fitness facilities will be able to reopen for individual or one-to-one training. Extended households will also be allowed again, enabling two households to meet and have contact indoors.
First Minister, Mark Drakeford said:
"The public health situation in Wales continues to improve thanks to everything you are doing to help us control this awful virus. Cases of the virus are falling and our incredible vaccination programme continues to go from strength to strength.
"Last week, we set out our programme to further re-open the economy and relax the restrictions we have lived with for so long, as part of our careful, step-by-step approach to keeping everyone safe. This week, because of the improvements we continue to see, we can bring forward some of our plans.
"This is only possible because of the efforts everyone is making to protect themselves and their loved ones."
From Monday 12 April, the following relaxations will go ahead:
The full return of children to schools for face-to-face education, all post-16 learners will return to further education and training centres, and university campus' will be able to open for blended face-to-face/online learning for all students;
All remaining shops will reopen, completing the phased reopening of non-essential retail;
All remaining close contact services will open, including mobile services;
Travel restrictions on traveling into and out of Wales will be lifted. However, restrictions on travel to countries outside the Common Travel Area without a reasonable excuse, remain in place. The Common Travel Area means the United Kingdom, the Channel Islands, the Isle of Man and the Republic of Ireland;
Wedding 'show-arounds' by appointment are allowed;
Restrictions on political canvassing are removed, subject to canvassers doing so safely.
Further easements to restrictions in the coming weeks will be subject to the public health situation remaining favourable. These will be confirmed at the next three-weekly review of the coronavirus regulations on 22 April.
On Monday 26 April:
Outdoor attractions, including funfairs and theme parks, would be allowed to reopen;
Outdoor hospitality can resume, including at cafes, pubs and restaurants. Indoor hospitality will remain closed except for takeaways;
Organised outdoor activities for up to 30 people can again take place (previously Monday 3 May);
Weddings receptions can take place outdoors for up to 30 people (previously Monday 3 May).
On Monday 3 May (previously Monday 10 May):
Gyms, leisure centres and fitness facilities can reopen. This will include individual or one-to-one training but not exercise classes;
Extended household will again allow two households to meet and have contact indoors.
As set out in the revised Coronavirus Control Plan, a small number of outdoor pilot events of between 200 and 1,000 people are also being planned.