Monkeypox Q&A: how do you catch it and what are the risks? An expert explains
THE LATEST outbreak of monkeypox has, at the time of writing, reached 17 countries with 110 confirmed cases and a further 205 suspected cases. It's a fast-moving story, so if you need to catch up on the latest, here are answers to some of the most pressing questions.
How is monkeypox spreading?
The first patient in the current outbreak had returned to the UK from travels to Nigeria where monkeypox is endemic. However, cases are now spreading among people who have not travelled to west or central Africa, suggesting local transmission is occurring.
Monkeypox usually spreads by close contact and respiratory droplets. However, sexual transmission (via semen and/or vaginal fluid) has been posited as an additional possible route. The World Health Organization (WHO) says: "Studies are needed to better understand this risk."
Most cases in the current outbreak have been in youngish men, but the virus can spread to anyone.
There are no confirmed cases in Pembrokeshire at the present time.
What are the symptoms?
Early symptoms are flu-like, such as a fever, headaches, aching muscles and swollen lymph nodes.
Once the fever breaks, a rash can develop, often beginning on the face and then spreading to other parts of the body – most commonly the palms of the hands and soles of the feet.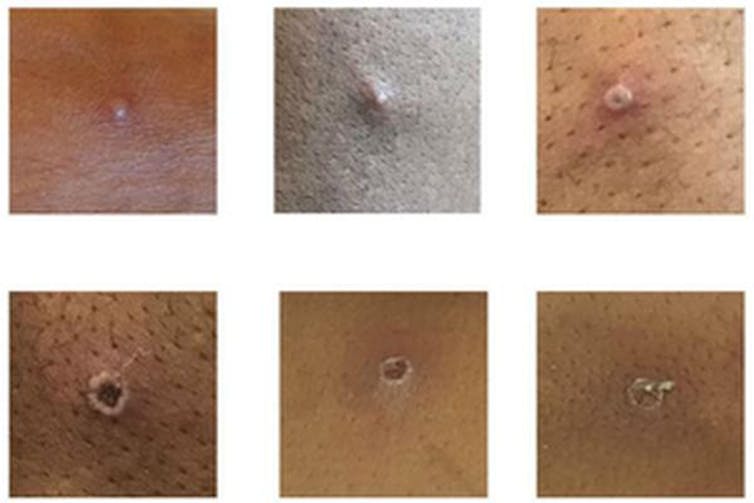 How deadly is monkeypox?
Monkeypox is mostly a mild, self-limiting disease lasting two-to-three weeks. However, in some cases, it can cause death. According to the WHO, the fatality rate "in recent times" has been around 3% to 6%. The west African monkeypox virus is considered to be milder than the central African one.
Monkeypox tends to cause more serious disease in people who are immunocompromised – such as those undergoing chemotherapy – and children. There have been no deaths from monkeypox in the current worldwide outbreak, but, according to the Daily Telegraph, one child in the UK is in intensive care with the disease.
Why is it called monkeypox?
Monkeypox was first identified in laboratory monkeys (macaques) in Denmark in 1958, hence the name. However, monkeys don't seem to be the natural hosts of the virus. It is more commonly found in rats, mice and squirrels. The first case in humans was seen in the 1970s in the Democratic Republic of the Congo.
Is monkeypox related to smallpox and chickenpox?
Monkeypox is related to smallpox – they are both orthopoxviruses – but it is not related to chickenpox. Despite the name, chickenpox is a herpes virus, not a poxvirus. (How "chicken" got in the name is not entirely clear. In his dictionary of 1755, Samuel Johnson surmised that it is so named because it is "of no very great danger".) Nevertheless, the vesicles (little pus-filled blisters) caused by monkeypox are similar in appearance to those of chickenpox.
Are cases likely to continue rising?
Cases are likely to continue to rise significantly over the next two-to-three weeks, but this is not another pandemic in the making. Monkeypox doesn't spread anywhere near as easily as the airborne virus SARS-CoV-2 that causes COVID-19.
Has monkeypox evolved to be more virulent?
RNA viruses, such as SARS-CoV-2, don't have the ability to check their genetic code for mistakes each time they replicate, so they tend to evolve faster. Monkeypox is a DNA virus, which does have the ability to check itself for genetic mistakes each time it replicates, so it tends to mutate a lot slower.
The first genome sequence of the current outbreak (from a patient in Portugal) suggests that the virus is very similar to the monkeypox strain that was circulating in 2018 and 2019 in the UK, Singapore and Israel. So it is unlikely that the current outbreak is the result of a mutated virus that is better at spreading.
How is monkeypox diagnosed?
In the UK, swab samples taken from the patient are sent to a specialist laboratory that handles rare pathogens, where a PCR test is run to confirm monkeypox. The UK Health Security Agency has only one rare and imported pathogens laboratory.
Is there a vaccine for it?
Vaccines for smallpox, which contain the lab-made vaccinia virus, can protect against monkeypox. However, the vaccine that was used to eradicate smallpox can have severe side-effects, killing around one in a million people vaccinated.
The only vaccine specifically approved for monkeypox, Imvanex, is made by a company called Bavarian Nordic. It uses a nonreplicating form of vaccinia, which causes fewer side-effects. It was approved by the US Food and Drug Administration and the European Medicines Agency in 2019 – but only for use in people 18 years of age or older.
UK health secretary Sajid Javid said that the UK government will be stocking up on vaccines that are effective against monkeypox. The UK currently has about 5,000 doses of smallpox vaccine, which has an efficacy of around 85% against monkeypox.
Are there drugs to treat it?
There are no specific drugs to treat monkeypox. However, antivirals such as cidofovir and brincidofovir have been proven to be effective against poxviruses in animals and may also be effective against monkeypox infections in humans.
By Ed Feil, Professor of Microbial Evolution at The Milner Centre for Evolution, University of Bath
This article is republished from The Conversation under a Creative Commons license. Read the original article.
Go Wild for Beat the Street Llanelli
PARTICIPANTS in the Beat the Street Llanelli are invited to Go Wild this week!
The themed week starts on Wednesday, October 19, with the aim of encouraging local residents to explore their local parks, waterways and green spaces. Beat the Street players are invited to score double points this weekend on Beat Boxes in parks, green spaces and along the seafront.
Already, more than 6,200 people have signed up to the real-life interactive physical activity game and have together walked, cycled and rolled nearly 30,000 active travel miles. The community's efforts mean that organisers of the game have donated £100 to three local charities; Tyisha Foodbank, Calon and Mind. A further £100 will be donated to all three when the total mileage reaches 45,000 miles!
There are also total and average points leaderboards for school, community, workplace teams and individuals with prizes for sports or book vouchers for the teams that top the tables at the end of the six-week competition.
Currently, Ysgol Gymraeg Ffwrnes leads the total points leaderboard, with Llangennech in second place and Stebonheath CP School in third. Ysgol Gymraeg Brynsierfel is in fourth place on the total points leaderboard and eight on the average points leaderboard.
Zoe Jermin-Jones, Assistant Headteacher at Ysgol Gymraeg Brynsierfel, said: "We think that this fun, innovative idea is fantastic! Our learners at Ysgol Gymraeg Brynsierfel have told us that the idea of competing in a town-wide game is really exciting! They are involving parents, family members and friends, and are telling us everything about how people are getting out and about, walking, cycling and scooting. Our teachers can even be seen taking walks around Llwynhendy during their lunch breaks. We have received nothing but positive feedback from all involved.
Beat the Street is a truly wonderful resource that improves both physical and mental wellbeing. We're looking forward to future Beat the Street games already!"
Beat the Street Llanelli: commissioned by Carmarthenshire County Council, supported by Sport Wales, provided by Intelligent Health.
Paolo Piana, Chair, Llanelli Community Partnership, said: "We're delighted to support the Beat the Street programme and it's great to see people out exercising and exploring new areas. It's amazing how we tend to stick to the same tried and tested routes and how the game has opened up the idea of exploring the town on foot, which reveals new areas and parks you might not have known about, even if you've lived here for years.
"Beat the Street is a positive and community-focused way of encouraging people to get more active, by walking, cycling, rolling and wheeling around this beautiful area."
Anyone of any age is invited to take part in the free game and you can still get involved for the remaining weeks. Just pick up a card from one of the distribution points listed at www.beatthestreet.me/llanelli, register your card, join a team and get playing! For more information, news and FAQs, follow @BTSLlanelli on social media.
Hywel Dda Health Board confirms Bank holiday arrangements
FOLLOWING confirmation that Monday, 19 September, will be a Bank Holiday to mark the Queen's State Funeral, the Health Board is contacting all patients to confirm or re-arrange their appointments, depending on service availability. Whilst all emergency services will be operating as normal, we need to adjust some elements of our planned care services and prioritise patients with urgent care needs wherever possible.
Our Chemotherapy Units will be operating as normal on Monday and some surgery for urgent cases will take place at our hospitals.
Where appointments need to be re-scheduled, patients are being contacted over the coming days by the relevant team to re-arrange their appointment as quickly as possible. In some cases, this may mean bringing appointments forward to this week. Some face-to-face outpatient appointments will still go ahead, and some may be held as an online/virtual appointment on Monday.
If you have an appointment on Monday, and have not been contacted by 1pm on Friday, please contact the health board's communication hub on 0300 3038322 or email ask.hdd@wales.nhs.uk for further information and guidance. Staff at the communication hub are available to answer calls between 10am-4pm on Saturday, and 10am-3pm on Sunday and Bank Holiday Monday. We are contacting all patients by telephone or text message, please check your telephone for any messages.
As GP surgeries and most Community Pharmacies and Dental services will be closed on Monday, a Bank Holiday out of hours service will be provided. Individuals requiring repeat prescriptions are encouraged to arrange them in advance.
All urgent and emergency care services will continue as normal. If you are unwell and unsure what to do, you can visit the online symptom checker or call NHS 111. The Minor Injury Units at acute hospital sites will be open as usual. Opening hours for community walk-in services can be found on the health board's website. Please attend an Emergency Department, or call 999, if you have a life-threatening illness or serious injury, such as:
Severe breathing difficulties
Severe pain or bleeding
Chest pain or a suspected stroke
Serious trauma injuries (e.g. from a car crash)
We apologise for any inconvenience caused and thank you for your support and patience.
Autumn Covid-19 booster roll-out begins today in Wales
THE ROLL-out of the autumn Covid-19 booster has started today (September 1) in Wales with care home residents and staff across Wales the first to receive the vaccine.
Everyone who is eligible for the autumn booster will be invited for a vaccination by their health boards. Invitations will be issued in order of vulnerability, with everyone eligible being offered a booster vaccine by December.
The vaccine will help support the immunity of all those who are at higher risk from COVID-19, improving their protection against severe illness, while also helping to support the NHS during winter 2022-23.
This autumn, in line with advice from the Joint Committee on Vaccination and Immunisation (JCVI), a single dose of COVID-19 vaccine booster will be offered to:
Residents in a care home for older adults and staff working in care homes for older adults
Frontline health and social care workers
All adults aged 50 years and over
People aged five to 49 years who are in a clinical risk group
People aged five to 49 years who are household contacts of people who are immunosuppression
People aged 16 to49 who are carers.
In line with advice from the Joint Committee on Vaccination and Immunisation (JCVI), eligible adults aged 18 and over will initially be offered the Moderna vaccine which protects from both the original strain of coronavirus and the Omicron variant. Those eligible aged under 18 will be offered the Pfizer vaccine. Both vaccines will be offered at least three months after a previous dose.
The vaccines will be administered in a variety of settings including GP surgeries and vaccination centres.
The winter respiratory vaccination strategy will ensure all those eligible for the autumn booster are also protected from seasonal flu – people are being encouraged to take up the flu vaccine when offered. All those eligible for a flu vaccine will be offered it before the end of the year.
Health Minister Eluned Morgan said: "Our winter respiratory vaccination programme will help protect the most vulnerable in our communities from flu and coronavirus this winter. The COVID-19 booster campaign will start with those in care homes, alongside those working within the NHS and the social care sector.
"Vaccines have had an enormous impact on the course of the pandemic – they have saved countless lives and given us the freedom and confidence to restart our lives.
"I want to thank everyone working in the NHS and other organisations who will once again lead efforts to protect the most vulnerable through vaccination.
"This year, we will once again offer an expanded flu programme, with 1.5 million people being eligible for a free vaccine.
I would encourage anyone who is eligible to take up their invitation to help themselves.
"All eligible adults will be invited for their autumn COVID-19 booster via letter and text message from their health board by December and I would ask people not to contact their GPs about their invite so they can continue to focus on looking after people's health."